I just got the game D&D and Im not sure how to get past the first chapter. Im currently where the game has a little 'save' sign in front of a locked jail cell.... Any help please?
Inuyashalover666
(
talk
) 20:49, November 6, 2014 (UTC)Inuyashalover666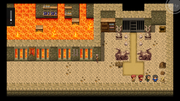 Ad blocker interference detected!
Wikia is a free-to-use site that makes money from advertising. We have a modified experience for viewers using ad blockers

Wikia is not accessible if you've made further modifications. Remove the custom ad blocker rule(s) and the page will load as expected.